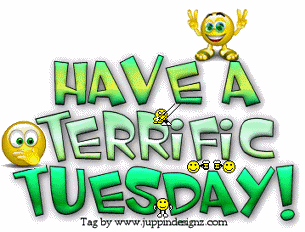 Well probably not, but lets pretend that it could be! Why not?
Found out yesterday that Crickette can't get off the weekend we want to go see Paxston. This is a bummer! I was so looking forward to her also going with us. It was her weekend to be off originially but she told her manager she would work for her on Sunday so that she could get her little boys pictures made. When she ask the manager for the time off, she told her it wasn't enough time in advance. HMM... I told Crickette to tell her she changed her mind and that she would not work for her, she needs to make an appointment on her day off. But Crickette is thinking that she might get fired if she does. Crickette is looking for another job and I am praying that she gets one so she can have that weekend off and that the manager will have to reschedule pictures! Yes I said it!
I have found another TV show that I absolutely LOVE! It's called Chase - U.S. Marshal Annie Frost heads up a special unit that tracks down fugitives in Texas.
Right now the three others that I also LOVE LOVE LOVE are taking a little break.
Covert Affairs (which has the girl from Coyote Ugly) - A CIA linguistics specialist winds up working with her ex-boyfriend.
White Collar - After being released from prison, all a former con man wants to do is reunite with his girlfriend. Instead, he's coerced by the FBI into helping them nab other con artists.
Dark Blue (Dillan McDermott) - Drama examining the LAPD cops in an undercover crime-fighting unit who struggle to do their jobs and resist the temptation of easy corruption.
I see a theme here....and guess that is why I also like to watch Castle - When someone starts using his books as the blueprints for brutal murders, a mystery novelist begins assisting the NYPD with some of their homicide cases, whether they want his help or not.
I did try to read the book that Castle wrote, but just couldn't get into it. I think because of the language used.
So that's enough for today. Have a Terrific Tuesday!! It's really up to you!